IBDP Core Courses in the Era of COVID-19
澳門教業中學牟楠楠
Nannan MU, Escola Kao Yip, Macau
2021年10月29日,中華國際文憑協會(CISA)推出主題為《疫情下的IBDP核心課程》的線上公益講座。此次講座嘉賓牟楠楠老師在CISA協會發起學校之一的澳門教業中學任學術總監。
Chong Wa InternationalBaccalaureate School Association (CISA) launched an online seminar on the topic of "IBDP Core Courses in the Era of COVID-19" on 29th October 2021. The speaker Ms. Nannan Mu is Director of Academics at Escola Kao Yip Macau, one of the CISA's founding schools.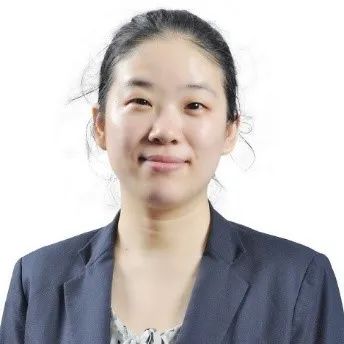 新冠病毒在全球大流行,將我們的周遭世界變得愈發VUCA"多變、不定、複雜、模糊"。重新思考IBDP的三門核心課程,不僅能幫助IB學生和教師克服疫情帶來的負面影響,也能引導我們致力於將VUCA轉換成代表"寬廣視野、洞悉明察、清晰了然、靈活機敏"。
Three core courses of IBDP can be a powerful weapon to defeat the VUCA world the pandemic COVID-19 has dragged all of us into. Rethinking the core courses in the era of COVID-19 helps educators and students not only mitigate the many negative impacts brought by the pandemic, but also transform VUCA from "Volatile, Uncertainty, Complexity, Ambiguity" to "Vision, Understanding, Clarity, Agility".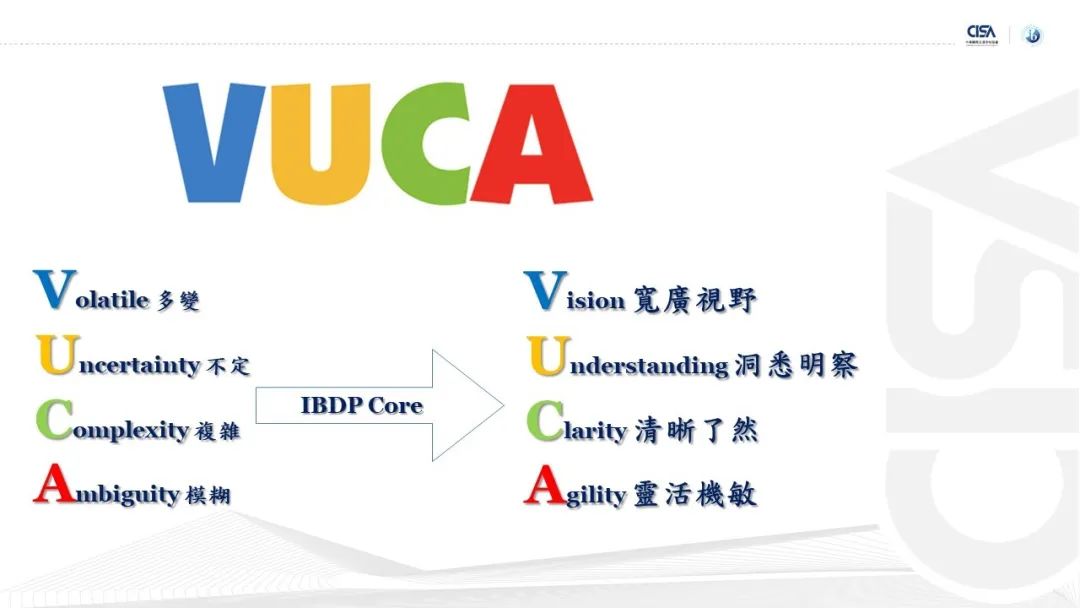 1. CAS vs. COVID-19
當下多變的外部世界中,CAS課程幫助我們拓寬視野。CAS所代表的第一個單詞是"創新、有創造性的"。疫情下,很多傳統的CAS活動或項目受到很大衝擊:很多活動被取消,或者受到諸多限制;面對面的活動與交流不得不因考慮社交距離而被避免。當經濟HL或者化學SL開始在線授課時,在線CAS似乎很難實現。
In a volatile world, CAS is the key to broaden our vision. "Creative" is the first word in CAS. During the pandemic outbreak, numerous traditional CAS activities or projects have been either cancelled or restricted. Face-to-face events and communication are avoided to maintain safe social distance. It seems hard at first to imagine a virtual CAS programme when EconomicsHL or Chemistry SL is taught online.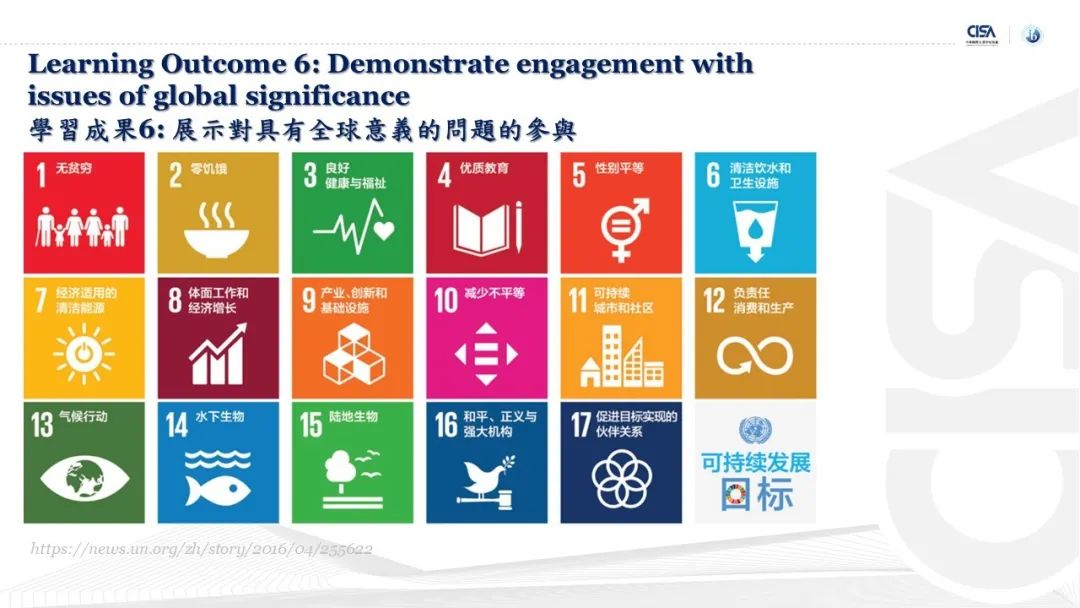 然而,IB一直倡導學生發揮創新精神,"胸懷全球、立足本地"。引導學生反思將能夠幫助他們思考疫情下CAS如何實現。CAS的6個學習成果之一是:展示對具有全球意義的問題的參與。聯合國的17個可持續發展目標就是這樣的問題。在學生所處的社區中,學生可以通過提問進行反思。例如,第1個可持續發展目標是"貧窮"。學生可以反思:新冠疫情給在你的社區生活的哪些人群帶來什麼樣的經濟難題?在你社區裡生活的兒童的學習和生活是否受到影響(比如父母失業或收入銳減)?你能做些什麼幫助這些兒童嗎?類似這樣的反思可以啟發學生開展很多不同的CAS項目/活動。
However, IB has always encourages students to be creative and to "think globally and act locally".Asking reflective questions helps students re-imagine how CAS can become. One of the CAS learning outcomes for students is "to demonstrate engagement with issues of global significance". UN's 17 SDGs are such issues. Many reflective questions can be asked for each of the 17 SDGs in the context of students' local community. For example, SDG No.1 is "poverty". Students may ask themselves questions such as "What financial problems has the COVID-19 pandemic brought to people in your community?", or, "What about the children from your community? Have their study and life been affected (if parent lose jobs or have pay cut)?" These questions will help students look for answers to "What can you do to help these children?" and then take possible actions. A virtual volunteering story on the IB website (screencast below) is an answer and a follow-up action to combat "poverty" locally in the era of COVID-19.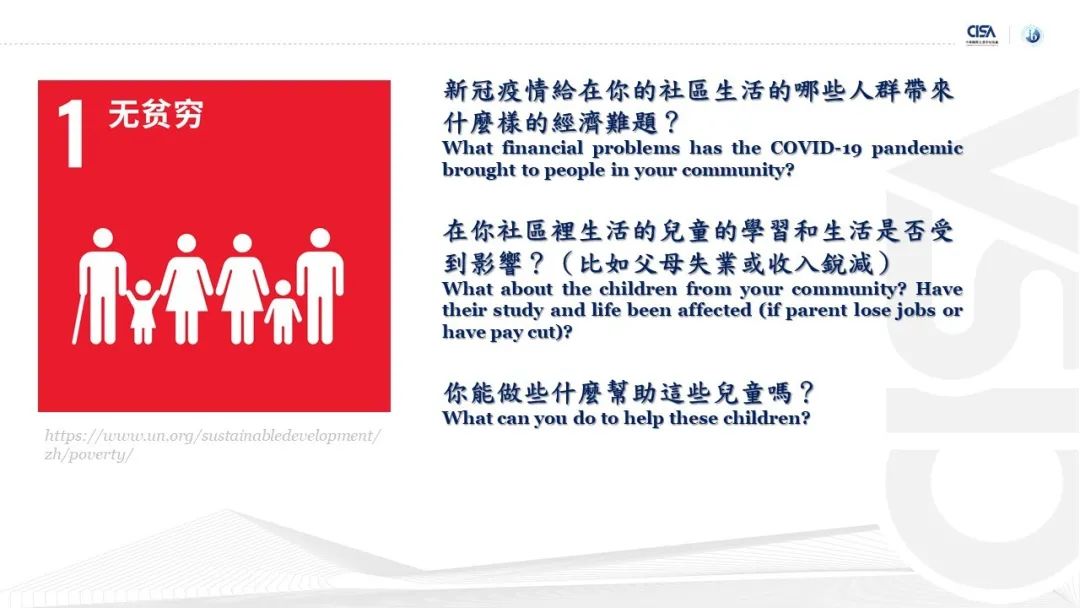 可持續發展目標12是"負責任的消費和生產"。學生可以反思:疫情下,社區人們是否更頻繁地買外賣或者網購?那些塑料或者紙包裝如何清理?社區的人們怎樣丟棄使用過的口罩?怎樣促使社區的人們更加關注此類問題?類似這樣的反思可以啟發學生開展很多不同的CAS項目/活動。IB官網上的"縫製口罩"就是一個這樣的例子。
SDG 12 is "responsible consumption and production". Students may ask themselves questions such as"During the time of the COVID-19 pandemic, do you and your community member order takeaway and shop online more frequently? How are the plastic or paper packages disposed of?", or "How do you and your community members dispose of used face masks?", and then "What can you do to encourage your community members to pay attention to such problems?". Such reflections will naturally lead to various CAS projects/activities as "sewing face masks" published on the IB website.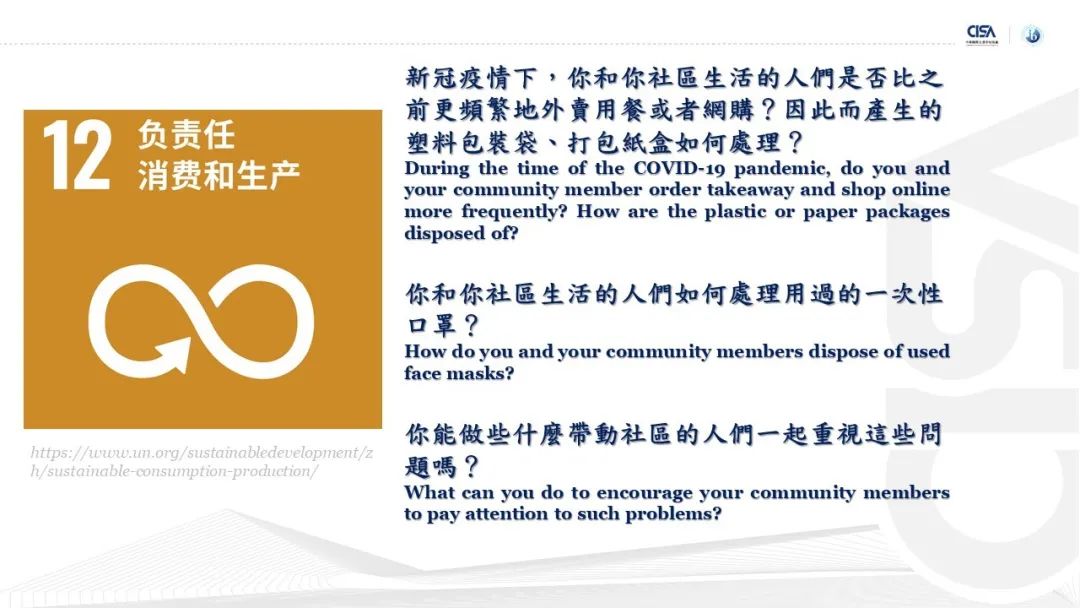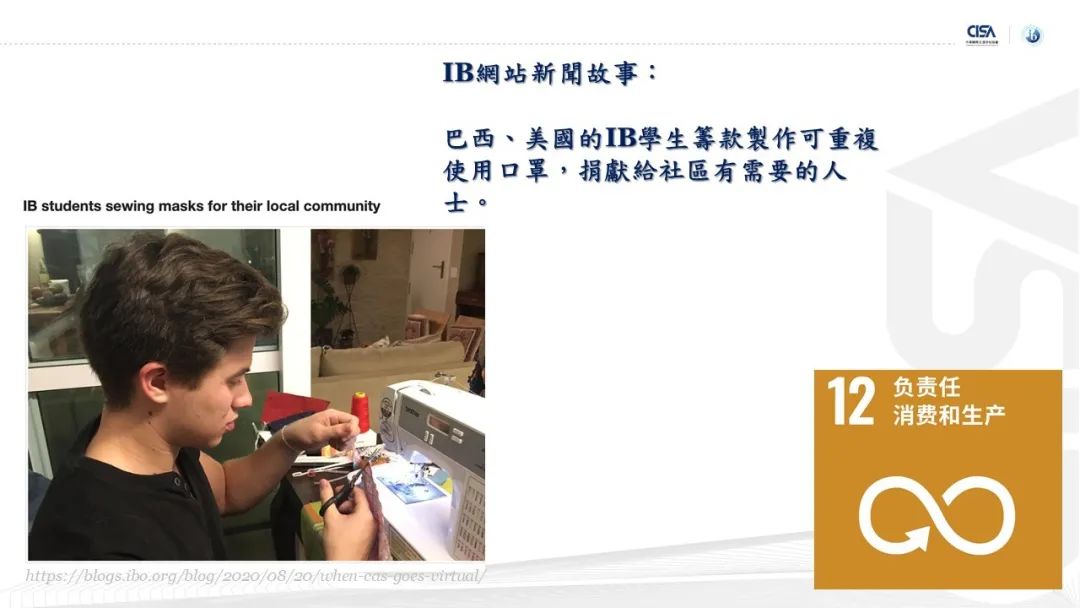 其它可行的CAS活動包括:開發無障礙設施地圖的微信小程序、為社區幼童編寫STEM課程、為抗疫醫護人員撰寫感謝的歌曲。
Other CAS ideas include: to develop WeChat App of Accessibility Map, to design STEM programmes for young children in local communities, or to compose "thank you" songs to express gratitude to the medical staff working to combat the pandemic, etc...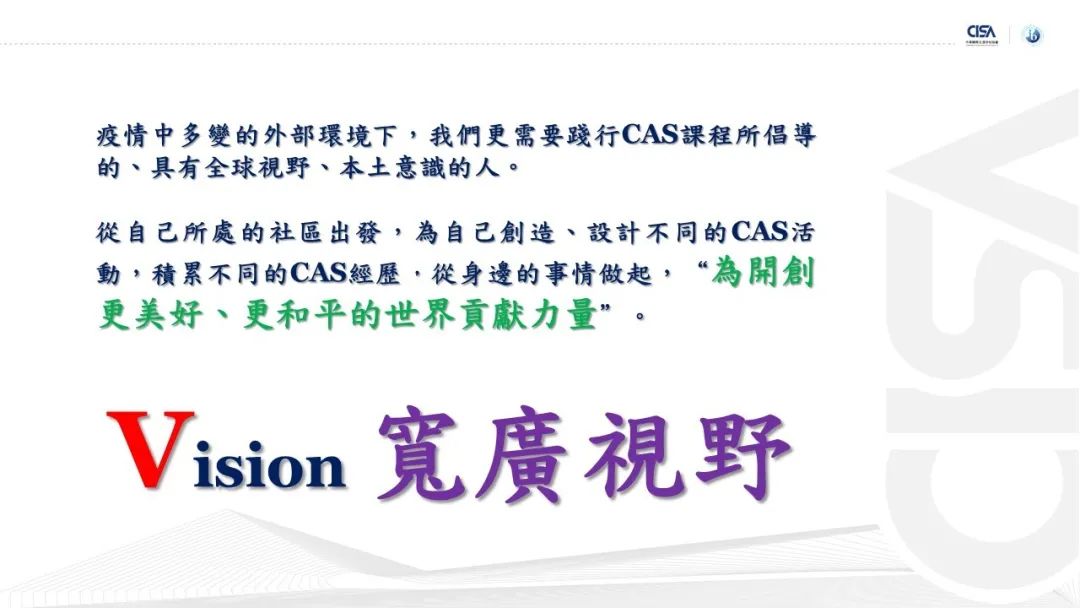 2. EE vs. COVID-19
疫情下的EE課程為學生提供了很多鍛煉ATL能力的機會。學生可因此更加清楚自己的優點和不足。
EE in the era of COVID-19provides many possible opportunities for students to train their ATL skills. Students can become clear of their strengths and areas for development.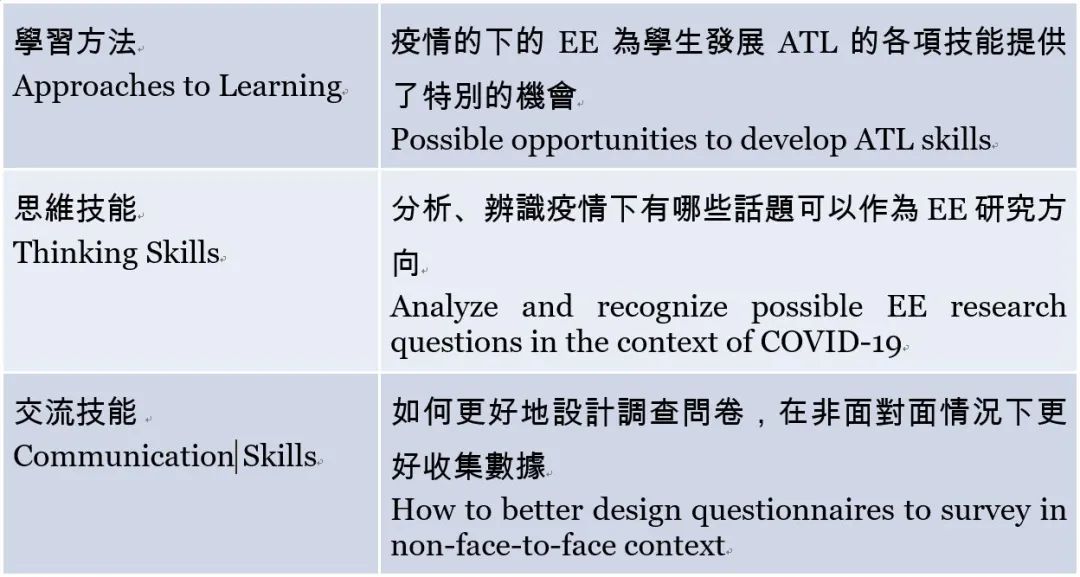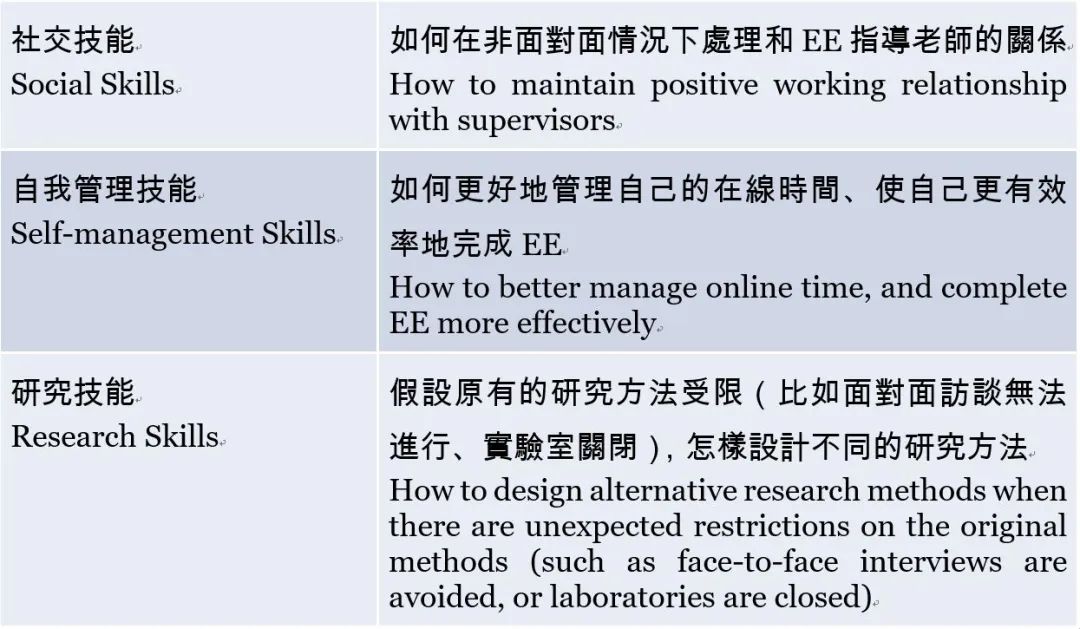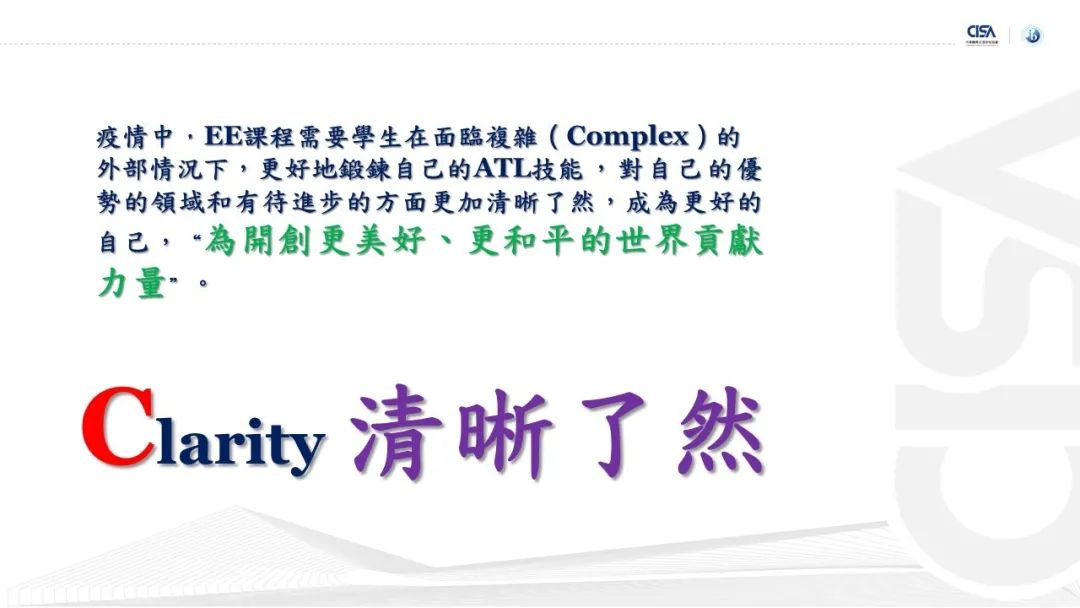 3. TOK vs. COVID-19
疫情也為TOK課堂帶來了很多討論素材。學生也將增進對自身和廣闊外部世界的知識的理解。在"知識和技術"單元,教師可引導學生討論下列問題:"抗疫中哪些科技手段被應用?"、"醫護人員如何分配使用緊缺醫療資源?"、"他們依據的準則放之四海而皆准嗎?"等等。
COVID-19 brings much "food for thought" at TOK class. Students can further their understanding of themselves and knowledge in this vast world. In the unit of "knowledge and technology", teachers may lead students to discuss questions such as "What technologies have been used in our combat of COVID-19", or "How do the medical staff decide how to utilise limited medical resources, such as ventilators? Are these principles universal?" etc.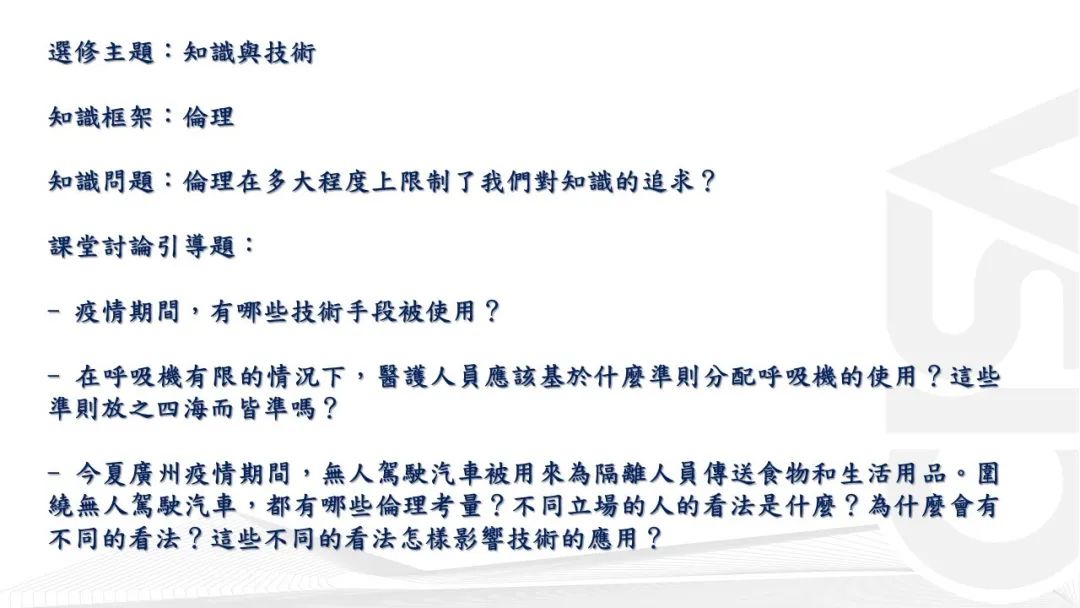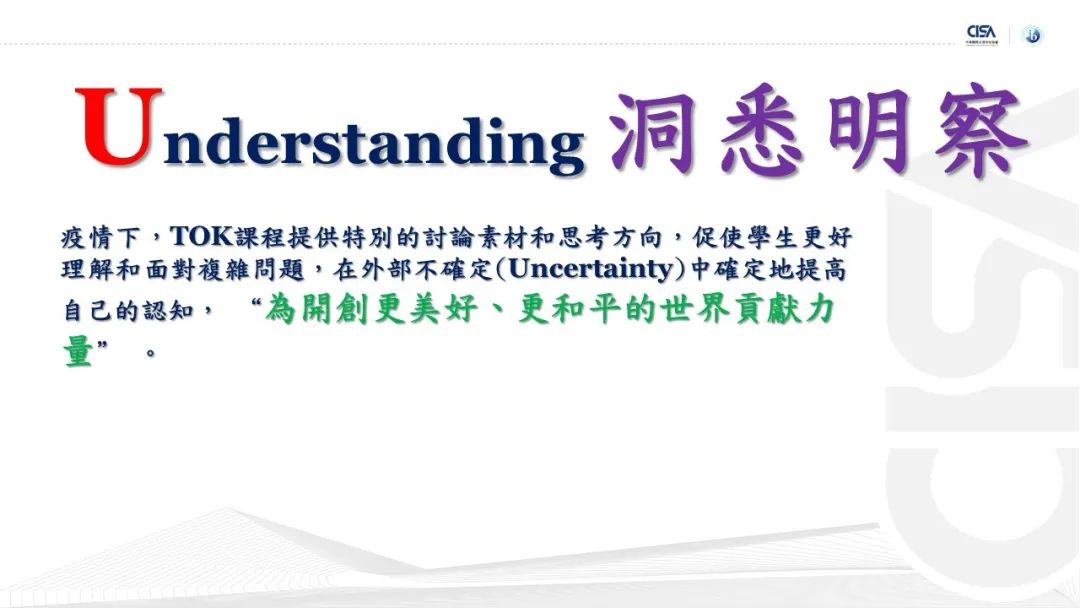 4. 反思 Reflection
疫情下怎樣化"危"為"機",值得每位IB教育者和學生認真反思。IBDP的三門核心課程能提供諸多有意義的教與學的機會。靈活的學習方式是在VUCA世界中生存和繁榮發展的關鍵。
How to turn "dangers" into"opportunities" is a question all IB educators and students ask themselves in the era of COVID-19. The three core courses of IBDP can be able to bring many meaningful teaching and learning opportunities. Agile learning is the key to not only survive but thrive in the VUCA world.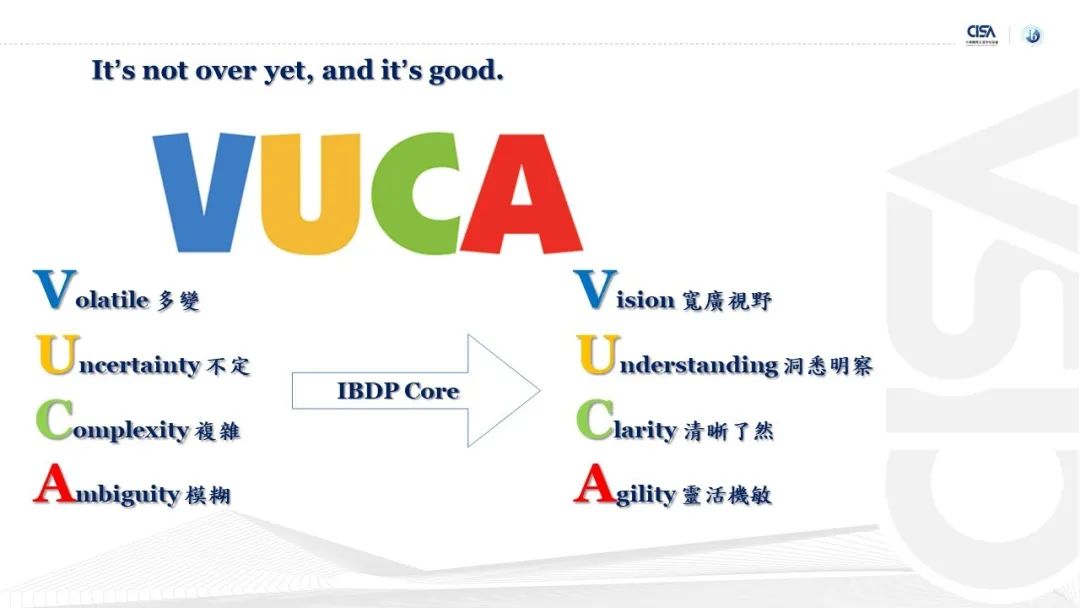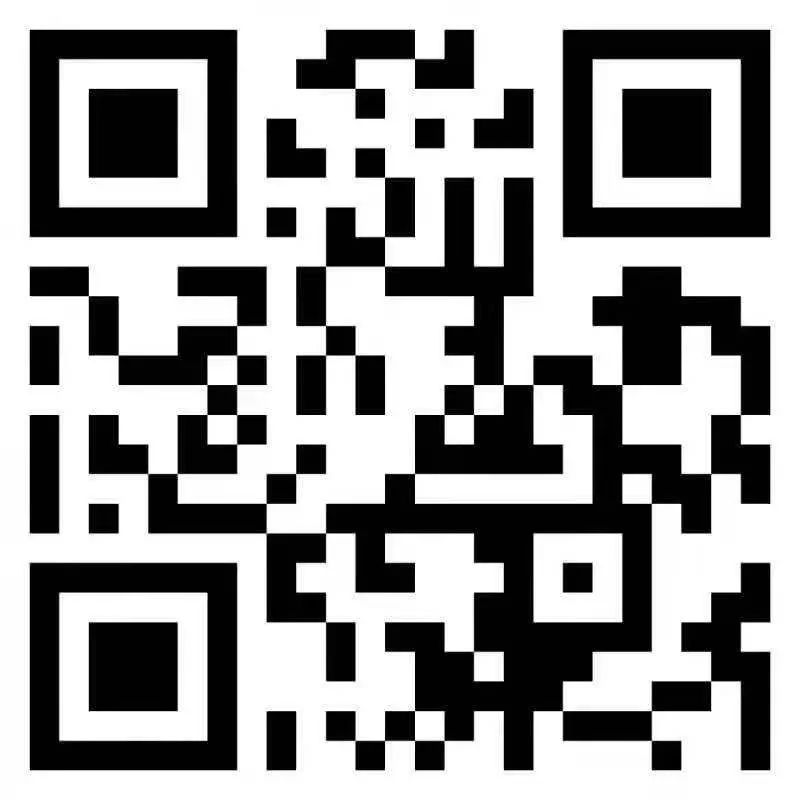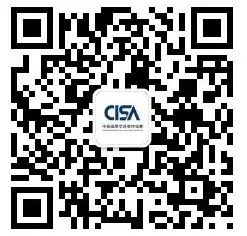 欢迎入会 关注公众号
IBDP Core Courses in the Era of COVID-19